Progress overview
Siden project is to be terminated on 26th July 2016 due to funding shortfalls
June
- not a lot of Siden related progress this month, but lots of Real life work in order to obtain funds to pay for 'payment downgrade' on the sim, too secure its continuation :) in the long term. This is an option open to sim owners, letting them make a one of payment to reduce all following monthly cost by 40%, but its only open for a limited time and its important we manage to get it :)
May
-Tests on some core mechanics in progress. See here
-HUD text wired up
-HUD now collapsible
-Food/nutrition system added
-Basic damage and amour system added
-Work on the 'Game' HUD and linking the Game HUD to the Invo HUD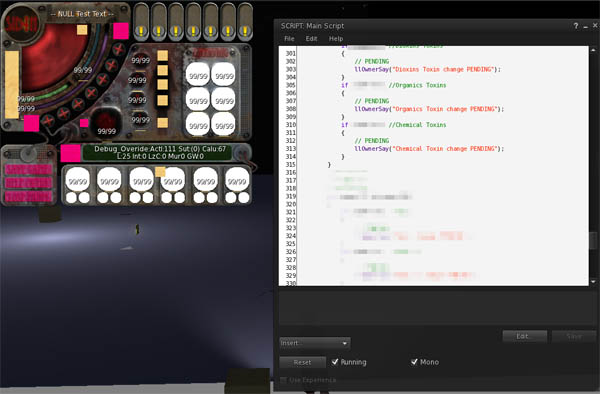 Game HUD will collapse into a smaller form, not taking up so much of the screen.
April
Getting back into Siden work, not sure how much time I will have to put in at this stage, but work as begun again :)
Early April

-Work beings on Hospital B-Wing Lobby (Monster Zone)

-Work beings on Hospital B-Wing Lv2

- Small shops building added to main streets (Currently empty buildings)

- Basics of church done, open to access (survivor camp at back of church still to be done, furnishing to be added to all of church)

- Billboard frame/tower added to front of diner building

- Work starts on church inside zone.

- Basic work done on first area/zone of the hospital interior, access added (Survivor camp)

- Work begins on first area/zone of the hospital interior (Survivor camp)

- Asylum physical shell added. solid wall are solid :)

- Asylum fake (decorative) doors added

- Minor details clean up/ finished from last year.
---
January 2016
The Siden project is still on hold but the sim/game area remains open to the public, even though its is still in a state of transition. Everyone is free to use and play with what is available at the moment. Payment/continuation of the sim/game area continues as normal (as it has for over 8 years :) and I hope people understand these delays are unavoidable due to RL work and personal issues (so feel free to IM me in SL and leave me a message or just to tell me not to worry as I feel i'm letting my friends and players down with these delays). I cant say when the project will really take off again but keep in mind, Siden was never and never will be a 'for profit' project, I made it out of passion. So having it sit on the shelf for a while will not effect it survivability as a project, its always cost me money whether it's sitting on the self or populated by players.
Siden is a very personal project to me and even though it may be hard to understand, I don't want to work on it unless I can give it 110% (and cant work out what time I have un-till RL settles down). I'm not interested in making something for the sake of making it, so it very important I give it the time and effort it deserves.
Take care all, Sooden :)
December 2015
Project on hold till 2016 as real life work is jam pack . Real life work has to take priority over the Siden project as it provides the funds for Siden. The Siden sim will remain open as normal but Sooden will only be on for limited periods of time. Feel free to Role play in Siden, even though its currently split in two parts (old and new version). Sorry for the delay but some things cant be foreseen. See you in the new year :)
November 2015

None Sl related work has taken up a lot of time so progress has been slow. Mainly testing code that is already in use and some minor object work.

Late October 2015: Alpha 01

A test version of the Inventory HUD is now available.

SL_Url : http://maps.secondlife.com/secondlife/Emata%20Almarae/119/12/654

Mid October 2015

Filling of Asylum generator complete. Can add fuel, turn on and supplie power for asylum lights (requires Inventory HUD -Not publicly available for testing yet)

Asylum lock down works once you have obtained the asylum key (requires Inventory HUD -Not publicly available for testing yet)

Some inventory items added, 'Hooked metal rod' and 'Wrench', which can be used to obtain the asylum key from a drain. (requires Inventory HUD -Not publicly available for testing yet)

Cars can be refuelled using fuel item, but refuled version not in town yet. (requires Inventory HUD -Not publicly available for testing yet)

Asylum lights can be turned on and off.
Early October 2015

Mainly Scripting work on the inventory system. It responds to collect and request for items, that's a huge step :P Visuals also update with item requests. This mean objects can start to be planned that will interact with the inventory HUD.
Overview of events (September 25th)

As real life work is taking more time than I expected, progress in second life is slower than planed (as I never want to rush my work and produce something shoddy), it is clear that this project will be 'Siden 2016' (its was meant to be Siden 2015) before fully finished. But I hope to have testable works way before that. On a good note, the extra real life work is helping support my second life cost but would still appreciate the support of my products, even if you just tell others about them, see the main store at http://maps.secondlife.com/secondlife/Emata Almarae/175/212/29. So I don't want people to worry that the slow progress at this time is a sign that the project is dying, for from it, when I do get time to work on Siden/Second life, I am more enthusiastic than ever, and cant wait to get my ideas out there.

I know its a shame that things are taking so long, and I don't want people waiting around not knowing what's going on, so I hope this helps clear things up. I know it will be worth it when all the work is done. In the mean time, feel free to play in what's left of the old Siden and explore the current parts of New Siden. The old HUD is still available, in a box marked ,'Discontinued', if you still wish to use it with friends.
September 15th,16th and cont.

Working on Inventory scripting so nothing interesting to show.

Item Category selection done (correct items popping up when icon selected).

Item Select/highlight done

Planning underway to allow player to player trading of single items (probably wont be added in first player tests).

Small item work Continues (as they are needed for inventory system)
September 7th

From Sooden:

'Taking a small brake (holiday) to clear my head as all my waking time has been spent at work in RL then work in SL after that (don't feel bad for me, i enjoy both :). Its important I have a fresh mind when working on Siden, as I want it to be the best work I can do, according to my abilities.

Work will continue properly in mid September, with the hopes to have some testable game system functions by Halloween (oct 31st). This will probably be inventory system and maybe the start of monster system.'

September 2nd,3rd and cont.

Work on small items continues. This could take a while as each items need to be made from scratch, so have to research, build and texture each item
September 1st

Snapshot of small item work and Inventory HUD (WIP). HUD collapses down into one bar with main icons (food,medical,tools, ect) ..., so its not always taking up screen space. Very early work, still only in visual stage.

August 31st

Still working on smaller items , inventory HUD and other scripting

August 26th

Working on smaller, game system related object to allow early development of game mechanics.

August 24th

-----

Early public cars added. Don't know how buggy they may be. Fuel is disable for now, as there is no way to refuel a car. Know bugs, if car goes off sim, it de-spawns and does not reset to its starting location (so please try to avoid going of the edge of the sim)

Feel free to drive the cars, even shoot at them, but remember, they are early test cars :) only 3 cars, and once someone moves them, who knows where they will be, good hunting.

-----

General desk and cabinets finished

Detailed objects placed in asylum ward

August 17th

Still working on other projects (not related to Siden but sales from it will support Siden). Work will most likely resume on Siden by next week.

August 12th

Taking a short brake to work on other projects

August 10th and continuing

Work starts on detailed objects for asylum.

Asylum main beds made.

Sofas made (may need adjusting to better sit average avatars)

Some wall paintings added to asylum.

All double doors added, single doors still to do.

lock down system done to 'test stage' (can not be use by players yet, only creator)

Lighting system complete but no user controls at this point

Continuing work on lock down system

Lock Down shutter doors, done,

Lock Down Windows, done,

Restrain racks pop out of floor, Done, (For visuals only)

August 5th and continuing

Continuing work on lock down system

Work on Asylum kitchen started

Work on standard asylum doors started

Work started on asylum controlled lighting system

August 4th

Planning/Working on Asylum lockdown system
August 3rd

Lighting tests for asylum.

July 31st

Roof and floors added for asylum, checking texture layouts.

July 28th,29th,30th

Planning and work starts on asylum building.

Layout finished, pictures when shell is more complete.

July 26th (an update on a Sunday, wow)

New Death Tree Model

Very Early Monster test

July 24nd

Solid path and path finding added. In preparation for public access.

Plan review and current progress report coming soon.

Work start on a basic monster type for testing and exploring Path finding functions.

July 22nd

Work starts on graveyard and garden areas of the town

July 21st

General scripting prep for later works (vendors and game objects)

Sim cleaning to free up prims for more building work

Planning of next project to focus on regarding new Siden area (main town only)

July 20th

School physicals added.

School main build finished.

Game System: Resource collection point prototype.

Game System: Augmented info icon system concept explored - Using icons on the HUD to track and give more info about near by important objects.
July 16-17th and on

Finalising new school building.

July 15th

July 14th

July 13th

July 9th,July 10th and onward for now

Working on concepts for new 'Flesh lizzy' Boss monster

July 8th

Working on product related projects for Siden sim income (boxing up and market placement of products)
July 7th

Basic School desk and 8 shot shotgun prop finished.
July 6th

Some scrap objects created

July 3rd

Rucksack props finished

July 2nd

Warn out wall charts finished

July 1st

Projector screen finished

June 30th

Overhead projector prop finished

June 29th

A2 Drawing board finished.

June 26th

Reviewing current work and planning what to work on next

June 25th

Book trolley finished

June 22nd June 24th

Work continues on clutter objects, Lockers and other small items for the school.

Note added to Site

- Things are taking longer than expected but work continues on the Siden project. Rather than rush anything in order to catch up with plans, plans have been extended. We still hope to have and early version of the new Siden available in Q3 of 2015. -

Personal note from Sooden

"Hope people can hang in there while things are being made for Siden. It takes so much time and and effort, and other 'real world' demands have taken a lot of my time over the last few months (most to help pay the bills including SL). I'm sure the wait will be worth it and will open up parts for the new area to public when its safe (to many fake walls and floors right now)"
June 18th, June 19th

Working on smaller props for building clutter.

Collecting Textures (Photo of stuff in RL for use in SL projects)

June 17th

Twin School desk finished

June 16th

Working on school desk

June 15th

Spotlights added to school

June 12th

Added lighting objects and stairway detail.

June 11th

Lighting tests on school building

June 10th

Finalising school building base textures (walls, spectral and bumps maps, stuff like that) and structure in preparation for next level of detail (objects like seats, tables, lights)

Main layout complete.

June 8th - 9th

Work continues on textures and building layout (Floors and doors) for school

June 5th

Testing/experimenting with main school textures to get correct 'feel'. could take some time :P
June 4th

Door ways (and fake doorways)/ internal windows added. Basic texturing done. Fine tuning of layout and textures still needed.
June 3rd

School shell and basic textures complete, work on insides starts.

June 2nd

Work starts on Shell of school building

May 29th

Church front door added.

Hope to increase progress from early June and onward

May 6th- 12th and cont.

Mainly planning and concept tests, so very little to publicly show.

May 1st

Work starts on Church outer shell

April 27th

Physicals added to hospital shell. model work slow due to low funds for uploads

April 20-26th

Donations so low, had to work on other projects to make up the short fall.

April 19th

Work continues on outside (shell) of hospital (Night Shot of main tower and heli pad)

April 18th

New HUD design 'easier on the eye'

April 17th

Redesigning HUD to simplify graphics

!Old Siden sewers removed to free up prims for new Siden structures!

April 13th - April 16th

Work on outer shell of Siden hospital starts

Rough final shell made (no final textures, shell joining walls not joined, no fine details)

April 8th

Some level 3 details added to current streets

April 5th -7th

Some level 3 details added to apartments

April 4th

Work on 'clutter' type objects in blender

April 3rd

Physicals added to apartments

March 30h

!Secrete lab removed from old Siden to allow more prims for work in new Siden!

Warehouse prototype finished. warehouse project rested for now.

March 26th

warehouse prototype (over 50m by 50m) one quarter of planned industrial park

(corrected dates on website)
March18th to 20th (and even weekend work to 22nd)

Lots of projects running along aside each other
March 17th

Added some RP story based brands to add depth to products.

March 16th

Work starts on main kitchen equipment for new dinner

March 15th (Product news)

Generator finished and on sale with full permissions (user licence) so people can use as decoration or develop into something more. (SL link)

March 13th (Friday)

Generator product progress. getting closer
March 6 to 11 th

Plans to make starting a generator more of a quest :)

Researching generators and prototype models.

March 5th

Second HUD prototype layout designed

March 4th

First HUD prototype layout designed and scrapped

March 2nd

Planning HUD design concepts

February 2015

Apartment building with ground level car park added (visuals and some structure)

Outside view (very early progress)

Early 2015

- Mini Mall added (visuals and some structure)

Upper floor furniture test

- Empty looking shop area added to lower floor of diner building

- Basic town square added (very early progress, more of a space fill for now)

Late 2014.

- Concept planning

- Subway designed as new starting location and added

- Main street and building layout plans finalised

- Road and paths added (with basic physicals)

- Subway exit added

- Guns shop building added (Structure only)

- Some gun models created

- Generic space filling buildings added

- Diner building added (Structure only)

- Main diner area added to top floor of diner building

- New monster deigns created

- Concept monster visual animation system test

- Path finding for monsters tested (at very basic level)
Notes
Level 1: Main Structure

Level 2: Main furniture and large objects

Level 3: Decals, minor objects